Italian mags always make me love Valentina, even if I'm not a fan of her at all. This time, she shines in Ralph Lauren. Why? Because classic beauties rock his collections. It's such a smart decision to choose Valentina for that cover & editorial.
Happy 20th Birthday, ITalian Elle!
Cover picture photographed by Joshua Jordan, styled by Alberto Zanoletti.
Editorial photographed by Gleb, styled by Alberto Zanoletti.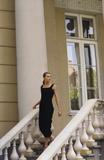 P.S Don't miss Anja Rubik in the December's issue of Elle IT!